One area of a home that many people have trouble with is the space behind the TV, me included. I haven't been able to make up my mind about what I've wanted to do there, so it has sat empty and ignored for months. Once I took Christmas down the bareness has really started to bother me, so I've finally made some decisions about what to do. My curtainless windows bother me even more now that Christmas is put away also, so that will be the next thing to be taken care of.
I first thought I would do a gallery wall behind the TV or hang the TV on the wall and make it part of the gallery wall.
Emily A. Clark


Then I saw this picture and it was totally calling my name. So I think I've decided to forgo the gallery wall idea and go with a picture ledge above the TV instead. I love the layered frames and how much depth it adds to the wall.
So now that I know what I want to do, it's time to make a trip to Ikea for a picture ledge. It's also time to start looking for looking for art to put up there. So far the only thing that I really have my heart set on is this print from
SS Print Shop
. This is going to be fun!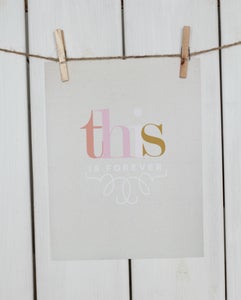 *Need help with a space in your home? I offer both in home and online services. See Design Services for more information.